Salzburg Land - the heart of Austria
Salzburg Coat of Arms
Salzburg is a state (Land) of Austria. It is officially named Land Salzburg, colloquially Salzburgerland, to distinguish it from its eponymous capital, the City of Salzburg. By its centuries-long history as an independent Prince-Bishopric, Salzburg's tradition differs from the other Austrian lands.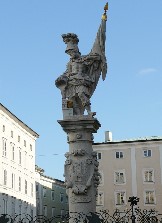 The Austrian state of Salzburg stretches along its primary river, the Salzach running from the Central Eastern Alps in the south – reaching a height of 3,657 metres (11,998 ft) at the mountain Großvenediger – down into the Alpine foothills in the north, with an area of 7,156 km2 (2,763 sq mi). It is located in the north of the country, close to the border with the German state of Bavaria. It is surrounded by the Austrian lands of Upper Austria in the northeast, by Styria in the east, by Carinthia in the south as well as by Tyrol and South Tyrol (Italy) in the southwest. With 529,085 inhabitants, it is one of the country's smaller states in terms of population.

Salzburg is the fourth-largest city in Austria and the capital of the federal state of Salzburg.

Salzburg's "Old Town" (Altstadt) is internationally renowned for its baroque architecture and is one of the best-preserved city centers north of the Alps. It was listed as a UNESCO World Heritage Site in 1997. The city has three universities and a large population of students. Tourists also frequent the city to tour the city's historic center and the scenic Alpine surroundings.

Salzburg was the birthplace of 18th-century composer Wolfgang Amadeus Mozart. In the mid‑20th century, the city was the setting for the musical play and film The Sound of Music. Salzburg comprises five districts, known as Bezirke or vernacularly Gaue: Pinzgau (district capital in Zell am See) Pongau (Sankt Johann im Pongau) Lungau (Tamsweg) Tennengau (Hallein) Flachgau/Bezirk Salzburg und Umgebung (Salzburg and environs) The city of Salzburg is its own administrative district.
Visitors' attractions in Salzburg Land
• Eisriesenwelt, the largest ice cave in the world
• Großglockner Hochalpenstraße: a panoramic road, called Grossglockner High Alpine Road
• Salzkammergut: a lake district belonging to Salzburg, Upper Austria and Styria
• Liechtensteinklamm: Salzburg is home to one of the longest and deepest gorges of the Alps, the Liechtensteinklamm. It is located near Sankt Johann im Pongau or St.Johann/Pg., a small town in the middle of the state.
Sport opportunities in Salzburg Land
• Salzburgring, a permanent racing circuit, north east of the city of Salzburg
• Ski Amadé
• Kitzsteinhorn, skiing the year round on a glacier
• Icespeedway in St. Johann im Pongau
• Aperschnalzen, an old tradition of competitive whipcracking

Ski resorts in in Salzburg Land
Altenmarkt im Pongau, Flachau, Wagrain, St. Johann, Zell am See (Saalbach-Hinterglemm), Obertauern, Bad Gastein, Rauris, Lofer, hochkönig,Krispl
Map of Land (state) Salzburg